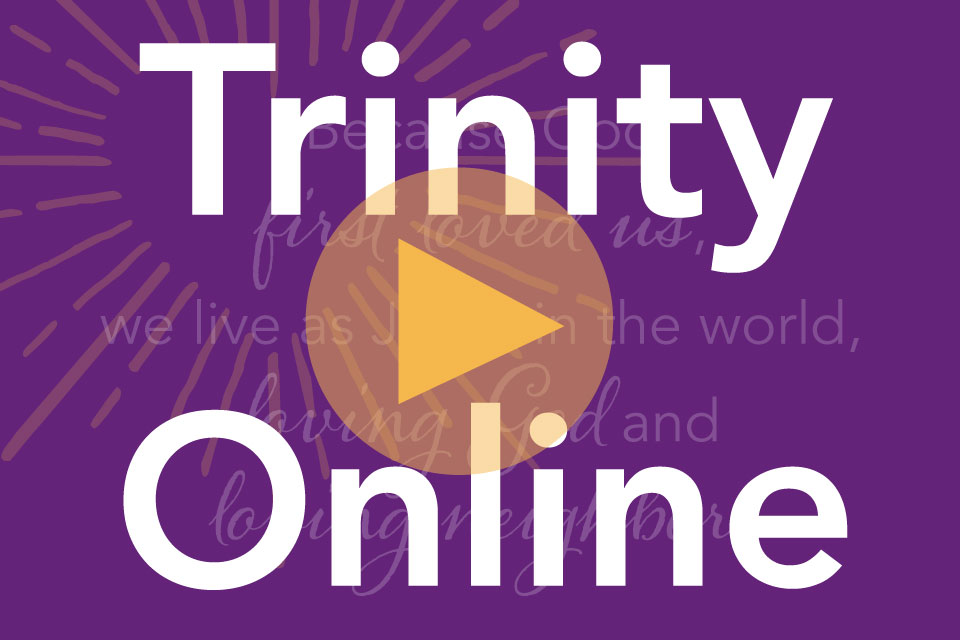 Out of love for our neighbors we have suspended worship in our sanctuary and all activities through April 30. We continue to be the church in all circumstances. We invite you to online worship on Wednesdays and Sundays. Please visit our Trinity Online page for worship videos and more.
Trinity Online>>
Palm Sunday April 5 – 9 am Worship Livestream on Facebook & Trinity Online
Maundy Thursday April 9 – Noon Extended Pause & Pray Livestream on Facebook & Trinity Online
Good Friday April 10 –
Morning reflection with Jeffrey Kjellberg Available at Trinity Online
Noon Cross-Generational Good Friday Worship Available at Trinity Online
7pm Seven Last Words Worship Service Available at Trinity Online
Easter Sunday April 12 –
9 am Worship Livestream on Facebook & Trinity Online
11 am Worship Broadcast on TV Channel 18
Trinity Worship Services Broadcast on Local Cable
Trinity's traditional Sunday worship service is rebroadcast on channel 18 through Valley Access Channels:
Sunday
11 a.m.
Wednesday
Noon & 6 p.m.

Thursday
Midnight & 6 a.m.

Friday
2 p.m. & 8 p.m.

Saturday
2 a.m. & 8 a.m.
The information below refers to our regular worship schedule which will resume after the Covid-19 pandemic. Thank you for being the church in all circumstances! Our shared ministry continues.
Worship Times
September through May
Holy Communion is celebrated weekly at both Sunday morning services, and everyone, without exception, is invited to receive the bread and wine. Christ's table is open to all—please join us at Trinity and find your place at the table!
SUNDAY – 9 am
Worship led by choirs, organ, and instrumentalists, incorporating historical, yet relevant elements of Lutheran worship. Here you will participate with robed clergy and worship leaders. You will sing hymns, songs, liturgy and psalms from a worship book and hear music from the Renaissance to the contemporary, from Bach to Gospel and a message relevant to our lives today.
SUNDAY – 10:30 am
Worship led by an ensemble incorporating the best of contemporary Lutheran music. Through worship leaders, electric bass, drums, keyboards, and other instruments, the congregation engages in a time of praise and worship following the historic pattern of Lutheran worship (Gathering, Word, the same message as at 9 a.m., Meal, and Sending.)
ONE WORSHIP SERVICE
A few times a year we offer one worship service only on Sunday mornings at 10 a.m. to reflect a special occasion and come together as one body of Christ in community. These are advertised well in advance.
WEDNESDAY WORSHIP – 7:07 pm
THE CURRENT WORSHIP—worship is at the center of our lives together at Trinity. Therefore our Faith Formation youth end their Wednesday night experience with worship. Youth begin in large group learning from 6-7 p.m. and then gather in the Worship Center. Parents, families, and community members are invited to come and join together. Wednesdays at 7:07 p.m. whenever Faith Formation meets.
CHILDREN
Children are always welcome in worship! For families with young children we offer Inclusive Grace Spaces in both the Sanctuary and the Narthex, Worship Activity Bags (located near the Grace Spaces) and Nursery on Sunday mornings in our lower level.
Read more>

Summer Worship Times
Memorial Day weekend through Labor Day weekend
PLEASE NOTE no nursery is available during the summer worship schedule. Children are always welcome in worship!
SUNDAY – 9 a.m.
Outdoor Worship at Drive-In in Houlton, Wi
Pile the kids and the family dog into the car and join us for our fun worship service at the Hilltop Drive-In Theater in Houlton, WI! The Drive-In is just east across the Stillwater bridge, about five minutes from downtown Stillwater. See the map below or use this address in your map app or GPS: 1433 Main St, Houlton, WI 54082
The Drive-In service features both contemporary and traditional music, with an eclectic mix of musicians, throughout the summer.
You're welcome to stay in your car (the service is broadcast on the radio) or you can set up a lawn chair and enjoy the warm sun on your face. We even have coffee and scones before the service, so breakfast is covered! Dress is casual (yes, we've even seen some folks in PJs), the service joyful, and the fellowship warm and welcoming.
SUNDAY – 10 a.m.
Indoor Worship at Trinity
Trinity's summer indoor service honors the rich heritage and deep roots we have as Lutherans. Each week, we feature guest musicians, who encompass an array of musical styles, to inspire us in connecting with God.
Similar to our 9 a.m. service during the fall and winter months, we follow a pattern or liturgy that has been developed over 2000 years: Gather, Word, Meal, Sending.What makes worship traditional is the garb that is hung on it: the style of music, choirs, organ, instruments, assisting ministers, processions, etc.
We believe in our increasingly secular world, the church needs to be more than just a historical witness to the faith. We are the church and we must act as contemporary witnesses to the gospel, bringing its reforming power into the world using the riches of our past, present and the future.