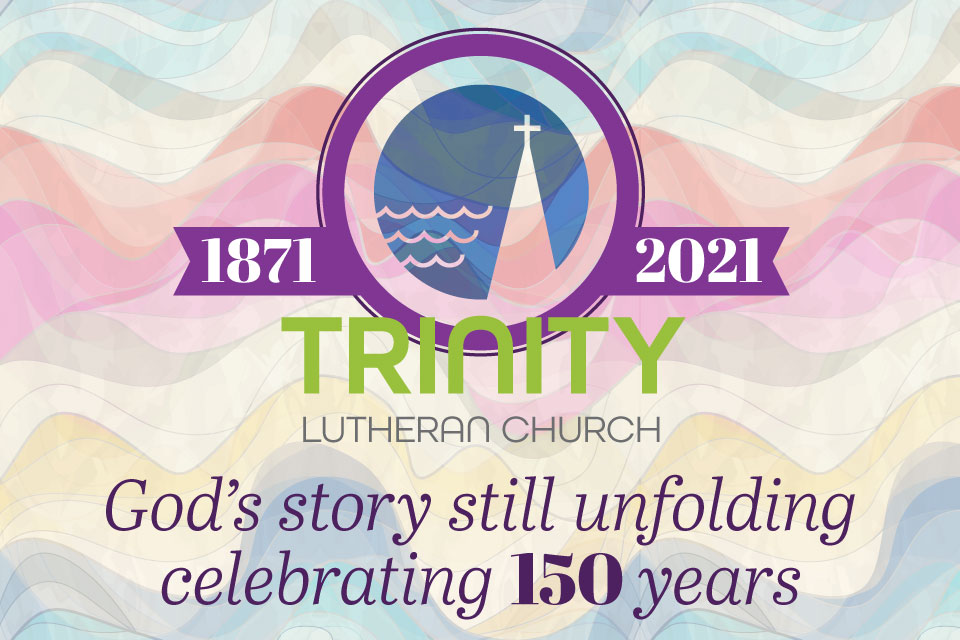 Please enjoy this video which helps tell the story of Trinity through pictures and narration. Founded in 1871 Trinity celebrates 150 years of God's story still unfolding.
Friends in Christ, we celebrate a big birthday this year: God called us into being 150 years ago and has been working in and through us for all that time. And it is the story of God's activity that we will tell this year. Birthdays call for celebration, so celebrate we will. While the pandemic prevented us from beginning this party as early in the year as we had originally hoped, we continue with plans to gather safely and adjust as health and safety require or allow it.
We want to hear from you and invite your contributions in several areas. Please read the following opportunities to contribute. And as the plans take shape, we will come back with ways that you can help. Send an email to [email protected] and we will get it to the appropriate person.
Your 150th Team:
Birthday party (July) and TrinityFEST party (September) – Alyce and David Brekke
Archives and history – Norma Wilson, Eric Trosdahl and Larry Loyer
Treasured garments and historic fashion – Emily Karlsrud and Marie Saterbak
Story Cookbook – Zanny Johnson and Linda Flood
Additional team members are: Monty Lysne, Pastor Peter, Marilee Tangen and Pastor Chris. We look forward to celebrating God's ongoing work at Trinity.
Treasured garments, historic fashion
Today church attire might be pajamas and sweatpants, but people have been putting on their "Sunday best" for generations. In celebration of Trinity's 150th year we want to explore the history and themes of restoration through the clothing that people wore. Do you have a vintage wedding gown or family christening gown? Other vintage pieces of clothing? We have partnered with Treasured Garment Restoration by St. Croix cleaners here in Stillwater so that Trinity members can receive a 15% discount on restoration work from April through June. Download the coupon below.
We would like to have members take photos in clothing styles through the decades of Trinity which we will include in a timeline alongside actual photos from the era. This can include the whole family! Perhaps you could recreate you wedding photos from years ago or a granddaughter could wear her grandmother's wedding gown. If you are a photographer or interested in participating in photos contact Emily Karlsrud and we can work together to style a photo of your family using pieces you have or finding them for you.
If you have questions about restoring your items, call the team at Treasured Garment Restoration at 651-705-8623 or stop by St. Croix Cleaners located at 4843 Neal Ave. N in Stillwater.
Story Cookbook
Help Trinity celebrate our 150th anniversary through the lens of food.  We are creating a story book/cookbook(let)and would love for you to share stories of Trinity and how they are tied to food.  We will be including a spread on the Lutefisk & Meatball Dinner, for example, so any stories you have about your involvement with that long-loved tradition would be so appreciated!
And if you have a signature food item that you may have served at your circle meetings, or small group meeting, or Advent Pause…and a story or photo that may go with that food item, please let us know.  Again, telling the story of Trinity through food.
Contact Zanny Johnson or Linda Flood to submit your food story—photos appreciated, and the recipe, too!
Do you have an interest in sharing Trinity God stories found in our archives?
We are searching for people who will look at pictures/albums/boxes of Trinity's past and present and help share the Story of God in our lives. The following areas need someone to help our community remember, learn, continue our mission and celebrate Trinity's 150 years.
Building Archives: Review box of building construction project pictures/articles and share how these projects fulfill our mission.
Boy Scouts began in 1905: Did you know the members impacted number more than a thousand at Trinity? Limited information, will need a bit of searching.
Drive-in Ministry: Never miss worship at the Drive-in? You are needed to share its beginnings and demonstrate how the Drive-in continues to impact our community.
Lutefisk Dinners: We need pictures and a person that can provide information about this unique Lutefisk and Swedish Meatball gathering!
Swedish Language: Can you help translate some booklets and readings?
Faith Formation: What is your interest in Faith Formation? Can you help impart God's work through children's ministries…or high school ministries…or adult ministries?
To reach the Archives Team please contact Norma Wilson.