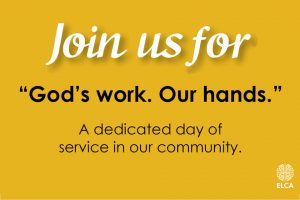 The Evangelical Lutheran Church in America (ELCA) dedicated day of service provides us with an opportunity to be "church together" as we serve our communities in ways that share God's love with all of God's people.
Since 2013 congregations have put their faith in action for "God's work. Our hands." This day is an opportunity to celebrate who we are as the Evangelical Lutheran Church in America – one church, freed in Christ to serve and love our neighbor.
Service activities offer an opportunity for us to explore one of our most basic convictions as Lutherans: that all of life in Jesus Christ – every act of service, in every daily calling, in every corner of life – flows freely from a living, daring confidence in God's grace.
SAVE THE DATE!
At Trinity we will gather on Saturday, Sept. 7
Together with our ELCA church siblings across the country we will lean into the baptismal promise to care for God's people and the world God made. We will gather at Trinity in the morning for a blessing then fan out across the valley in service to neighbor and earth. More details to follow in coming months!
Pastor Chris