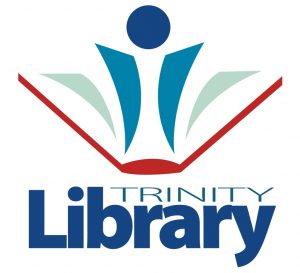 For the Word of God is living and active.
– Hebrews 4:12
To fulfill its mission of "providing a living and active ministry that spreads the Word of God to all of God's children," the Trinity Library works cooperatively with ministries of all ages. It strives to provide materials and programs that encourage the study of God's Word and the growth of each person's relationship with God.
Because God is at its focal point, the Trinity Library is a special place. It is a place to grow as a Christian, a place to find peace and compassion, and a place to be in God's presence.
Resources at the Trinity Library are not limited to only members of Trinity Lutheran Church; the entire community is invited to explore the library.
During COVID-19
Our library volunteers are happy to arrange contactless pickup or delivery of our library books during pandemic. Please contact Norma Wilson to make arrangements.
Checkout Policies
Books – 3 weeks
DVDs – 2 weeks
Music – 2 weeks
Bible study materials may be checked out for the duration of the program.
The Trinity Library is filled with resources to bring people closer to God during many facets of life, whether they be birth or death, health or illness, relationships, workplace situations, personal enrichment, or leisure and enjoyment.
Children's Section
A vast selection of picture and chapter books, both Christian and secular, helps kids see God in every part of their lives. DVDs and music specifically for children, all positive in nature, are available for checkout.
Adults
The non-fiction section contains a variety of topics, such as Christian living, self-improvement, marriage, parenting, family life, autobiographies, and women's issues. The fiction section, both Christian and secular, grows constantly and includes topics from romance, mystery and intrigue. A small, yet medically credible, selection of books about health provides a helpful starting point to someone facing a health concern. A section on grief also encompasses a variety of reading materials providing support for coping with the loss of a loved one. Theology references, including Biblical concordances, and Bible study materials are available for individual or small group use. Large print materials from fiction and non-fiction sources, are also available for those with special needs.
Families
CD recordings encompassing soft rock, contemporary rock, vocal, instrumental, seasonal, and traditional Christian music appeal to all listening styles. Family-friendly DVDs, including entertainment and informational selections, are available for family enjoyment.
Making a Donation to the Trinity Library
To help the library continue to grow, the library welcomes monetary gifts, and gifts of new materials, often made in honor of a loved one or special occasion.
If you are interested in purchasing new materials for the library, and would like assistance with your selection, please contact the Church Office.
Donations of gently used Christian or secular books, positive in nature are gladly accepted. Materials should be in new or like new condition, and published within the last 10 years, unless they are considered "classics." Donated materials that cannot be used will be passed along to another library or will be sold to a used book store with proceeds going to the Trinity Library for the purchase of more new materials.
Donations towards new furnishings or equipment for the library are also very much appreciated. Please contact the Church Office if you are interested in making a contribution of this nature or if you have questions about making any type of donation to support the Trinity Library.
Volunteer Opportunities
The Trinity Library operates with the help of an all-volunteer support staff. If you have ever thought it would be fun to help out in the library, read on to find out how you can get involved in this growing and exciting ministry!
Areas where your help is needed:
Hospitality – Assisting patrons on Sundays between services
Circulation – Filing checkout cards, shelving returned materials
Processing – Preparing new items, repairing damaged materials
Computer – Entry and label printing, searching the Internet
The time commitment for these opportunities varies from one to two hours a week on Monday mornings, to support with special events. Detailed "volunteer job descriptions" can be found in the Library.
Other ways you can help:
Write book reviews
Create book displays
Decorate bulletin boards
Create and be the editor of a library newsletter
Assist with a "library mailbox" (writing thank you notes, answering comment cards)
No experience is necessary, only an interest in fun and spreading the Good News!
For questions about the Trinity Library please contact Norma Wilson by email.