Interested in Baptism at Trinity? Read more>>
Children are always welcome in worship!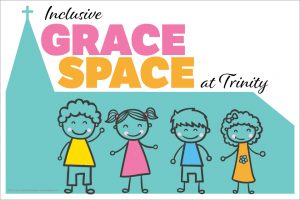 Inclusive Grace Spaces
These spaces, located in both the Sanctuary and the Narthex, are especially geared toward families with infants and toddlers. Small kids are often more engaged when they can see what's going on. Small tables, gliders and soft toys help to keep our little ones occupied.
Worship Bags
When worshipping onsite at Trinity, Worship Bags are located in the back of the Worship Center near the Grace Spaces, these bags are geared toward different age youth and include books, activities, crafts, and fidgets to keep little hands busy.
Make an At-Home Worship Bag!
Make a special bag filled with engaging activities for your young ones when worshipping at home. To help keep this bag special, just use it when your family worships.
Suggested age-appropriate items for your At-Home Worship Bag:
Baby: A board or touch-and-feel book, a small stuffed animal, rattle, a teething toy.
Toddler: A few board books, wooden toys (try these), finger puppets, block toys or large Legos.
Pre-School: A board book, a lace-up card with string (try these), finger puppets, Bible Activity Book with crayons (try these).
Elementary: A storybook Bible (your Spark Story Bible is a great option, as is this one), Bible Activity Book with crayons (try these), a baggie filled with connecting toys (try these), a fidget.
Sensory: A small stuffed animal and an assortment of toys with a variety of textures (try these).
Would your family like to check out a Worship Bag from Trinity? Please contact Sarah Olson using the button below.
A Bible in Every Home!
We encourage parents to begin reading Bible Stories to their children on day one and every day thereafter. There are wonderfully written and illustrated Children's Story Bibles that help set the stage for important faith conversations. If you need one, please contact Sarah Olson.
Nursery is available on Sunday mornings when onsite worship occurs in our lower level. Read more>>