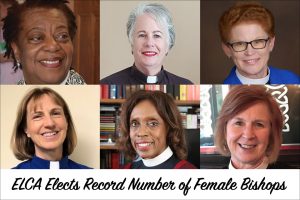 It's Synod Assembly season! Can you feel the excitement? The pageantry? The banner waving?
No? Well…I guess not everyone treats these church gatherings with the same enthusiasm as the Super Bowl or the Boston Marathon.
But they really are fun. It's exciting to see what God is doing through the wider church, the array of ministries and gifts that each community brings.
It's also reflective of how God is leading us together, and pointing our hearts and our feet in the same direction for the sake of God's mission in the world.
In the Evangelical Lutheran Church in America (ELCA), representatives from congregations in the 65 synods gather to elect leaders who will serve in a variety of synod leadership roles. Bishops serve six-year terms and help each region discern God's movement and accompany congregations through their ministries.
One of the big movements that has happened in the last year is the election of six female bishops, an ELCA record.
Three of the of six are women of color. The Rev. Viviane E. Thomas-Breitfeld was elected in the South-Central Wisconsin Synod as the first African American bishop in the history of the ELCA.
For a church that has been higher than 95 percent white European, that's billboard worthy.
In early May, another female bishop-elect, the Rev. Lorna Halaas, was just voted to serve the Western Iowa Synod.  There are now 17 out of 65.
What we are seeing is a church that continues to reform. Representatives are voting to lift up the voices of women and people of color in the ELCA. No church can survive that remains the same and for far too long the church hasn't reflected the gender and ethnic diversity that it serves.
In this Easter season, we remember that God continues to be on the move, lifting up the downtrodden, and creating new pathways forward.
While we aren't voting for a new Bishop in the Saint Paul Area Synod (and we do have a fantastic leader in Bishop Patricia Lull), I thank God for these new bishops, their willingness to lead, and their commitment to reimagining our shared mission as the church.
Please join me in praying for these faithful servants and the ways God continues to reform and raise us up.
Pastor Peter