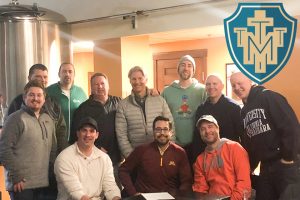 Anyone who comes to Trinity for the first time on a Sunday knows that it can be a little (or maybe very) intimidating. Even for a pastor. Especially on Easter.  It's just a lot of people moving around.
But in a larger church, it can sometimes to be hard to find people that you connect to or that you want get to know better in your faith journey.
I was listening to a segment on the radio recently and they were talking about how in our culture right now, people are craving connection and community, but they don't always know where to start. It can be difficult to break in and communities are always changing so it might take new energy and new leadership to launch.
One of the things that I started to notice as I met people, particularly younger guys, here at Trinity, was that many of them that I talked to on a Sunday morning didn't know each other.
Here's an example of a conversation I had a bunch of times:
"O, that's awesome, you work downtown at place where everyone works. Do you know so-and-so, he goes to the second service too. A couple little kids. I bet you ride the same bus into Minneapolis."
"Nope. I haven't met him."
"What about so-and-so?"
"Nope."
"Huh. I bet you would really get along great."
It was actually pretty bizarre how often that happened. So I started brainstorming with a handful of these guys about how to help build those connections, grow in faith, and learn together about what God is up to in our busy and sometimes brutal and beautiful lives. It turns out lots of guys were really craving a deeper sense of community.
Somebody even came up with a great idea. "We have a Retired Men's Group, what about a Tired Men's Group?"
And so, Trinity Tired Men's Troupe was born. We have 5 groups so far with about 30 guys involved meeting whenever it works for them. Some in the morning. Others in the evening. The hope is to meet for an hour or so once a month to share highs/lows, a topic (like time management, parenting, etc.), read scripture, and pray.
We are also looking to add some fun, cross-generational recreational or retreat events going forward.
If you or someone
you know might
be interested, send
a message to our
fearless leaders:
Aaron Haase
Derek Wolden
Or me, Pastor Peter.
We would love to follow up with you and connect you to a group. There is nothing better than growing closer to God and to each other, even if you're busy. It's the peace we all crave.
Merry Easter,
Pastor Peter