Unproductive yet Exhausted? Overfunctioning and Afraid? Anxious and Losing Sleep?
By Trinity Members Rachel Parkin, LICSW & Erica Kanewischer, PhD, LMFT
You are not alone. Most people are reporting at least one of these groups of symptoms during this challenging time. During the uncertainty, anxiety, fear and isolation of this pandemic, our brains are in a constant state of hypervigilance; working to protect us from this new place of vulnerability by releasing stress hormones to prepare our bodies for a fight or flight response. Our bodies are made to do this really well for a short amount of time, but as weeks have turned into months, this response system is getting tired. And so are we. Add to that the fear of getting sick, grief over the loss of a loved one, financial stressors and loss of our "village," and you can see our brains are working overtime. Even when we are home and feel we are not accomplishing much, we are exhausted; not because our bodies are working hard, but because our brains are. 
So what can we do as this time continues?
Allow ourselves to feel however we do on any given day.  Sometimes needing more rest, sometimes hopeful, sometimes angry, sometimes sad. Emotions are felt physically in the body, letting ourselves feel, with self compassion, releases these physically from the body and reduces the chance of a post traumatic response later on.
Lower your expectations of yourself and those around you. 
Create a loosely structured routine to give yourself a rhythm and increase a sense of predictability­—include things you enjoy! Plan even small things with your household so that there are those positive things that can be looked forward to and enjoyed together. Including times for exercise and moving the body is important.
Immerse yourself in nature. The signs of spring remind us that just as the seasons change, this too will not last forever. While in nature pause and take time to focus on each one of your five senses. When we tune into our senses it is easier for our brains to feel less anxious and in the present moment.
Practice an anxiety reduction strategy and get plenty of rest. If your sleep is disrupted, or anxiety feels like it's taking over—try a breathing exercise, visualization, or a meditation app­—we have found Smiling Mind, Headspace, and Calm apps to be helpful. A simple practice is placing your hands on your belly, slowly breathing in for the count of four—holding your breath for the count of four—exhaling for the count of four—holding your breath for the count of four—and repeating this. Notice the feeling of the air coming into your nose, your belly rising, let you shoulders slide down and your jaw relax. This is also a time where you can pray­—a simple "God, be with me" or a longer conversation with God is calming and connecting. Close your eyes and imagine a favorite spot and notice yourself there. A place you feel good, calm, safe. Notice all of your senses in this favorite place, what do you see, smell, hear, what can you watch that is moving? Your brain does not know the difference between imagining yourself there and actually being there! You will notice the calming effect as if you are there. Even a 5-minute practice during a busy shift or crazy household time will help.
Stay connected. Reach out to family and friends via video, connect with your community, talk about your experience. Hearing familiar voices and seeing familiar faces will help ground you.
Seek additional support when needed. If what you have tried does not feel like enough, you feel unsafe, or you are on the front lines of this crisis, there is help in our community. Most counselors are supporting people through telehealth video or phone calls. Reach out and ask for what you need, whether short-term support or more long-term in depth counseling. A simple internet search for counselors in your area will provide a place to begin. These conditions are stressful and can cause an increase in relational strain, triggering of past pain, and an increase in mental health symptoms you were managing prior to this time. This challenging time is also an opportunity for connection with loved ones, to simplify and re-prioritize life and being intentional. Together we can all help each other to remain hopeful, practice gratitude, and re-ground ourselves in the hope and peace of God's promises "For I know the plans I have for you, declares the Lord, plans to prosper you and not to harm you, plans to give you hope and a future." Jeremiah 29:11.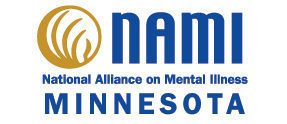 Trinity Lutheran Church is pleased to partner with NAMI MN (National Alliance on Mental Illness) of Minnesota to provide resources and events at our facility. NAMI is a non-profit organization dedicated to improving the lives of children and adults with mental illnesses and their families. For over 40 years, NAMI Minnesota has worked to promote the development of community mental health programs and services, change public attitudes about mental illnesses, improve access to services and increase opportunities for recovery.
Suicide Prevention Presentation
In January we had a special gathering for youth and families to look at issues of mental health and suicide prevention. Rebekah Windschitl, a youth and family therapist from our local Youth Service Bureau, led the presentation. We are pleased to have the session up on YouTube for you to watch at your convenience. Please follow the link above.
 Below is the handout from the presentation if you're interested in continuing the conversation at home or test your new knowledge after watching the video.

The message puts to rest the notions that mental illness is an indicator of special sin in the family or the person suffering from it. It emphasizes the church's role in encouraging companionship and healing, via restoration of relationships — heeding Galatians 6:2. What people with mental illness most need is time to pursue and engage in treatment, and to maintain or create relationships where they can exercise their abilities. Throughout the many forms of ministry the church provides, the church is called to confront practices that do not uphold human dignity and to offer hope and companionship, and attend to its own practices around health, its public voice, and the sensitive and thoughtful preparation of church leaders.
The paragraph above is an excerpt from the ELCA's Social Message on Mental Illness. Follow the link below to read more and download the full social message and study guide.