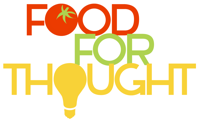 If you enjoy great food and conversation in a small setting, then Food for Thought is for you. Food for Thought has been a small group option at Trinity for many years. Adult couples of ALL ages are encouraged to participate, share, and grow in faith and friendship by participating in 4 dinners scheduled between November and April. No need to be a couple to join; invite a friend to create a couple or contact Lizann Skelton to help find someone in our Trinity family to pair with you.
How does it work?
Meet 4 times during the school year with 3 other couples in the home of a Trinity family. Each time you will be at a different home with different participants, however, due to number of participants, you may dine with some couples more than once.
Prepare your assigned portion of the meal. Main course is provided by host home and others will bring either the appetizer, salad & bread or dessert.
Each couple hosts once per year and recipes are provided.
Dates are set but can be adjusted to meet the needs of the group. We also have a substitute list in case you cannot make your dinner.
Food for Thought is a fun way to get to know your Trinity family in a casual and conversational setting. The menus are set, and no gourmet experience needed! Casual and stress-free is the theme! If you are interested, have questions, or would like to register, contact Lizann Skelton. Registration deadline is Sept. 20!
Dates for 2019-2020
Friday, Nov. 1 – Meet and Greet. The entire group will kick-off the new season at the home of Glenda & Bill Bjorum
Saturday, Nov. 9
Saturday, Jan. 18, 2020
Saturday, Feb. 29, 2020 
Saturday, April 4, 2020
Download the 2019-2020 Information Packet below. Roster with contact information is provided to participants only.