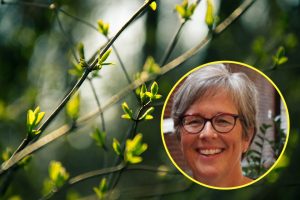 Spring months are abloom with new life, fresh beginnings, the greening of creation—at least in our part of the world.
Spring months are also abloom with life celebrations: graduations, confirmations, senior celebrations and award banquets, wedding, baptisms, first communions. These milestones are often regarded as "completions". A box gets checked. A page in the baby book gets a precious photo. The to-do list is fulfilled. Diplomas and certificates are awarded for work well done. Done being the operative word.
As people of eternity, we are invited to see things a little differently. Rather than "completing" things, we move through them into the next phase of our life in Christ. As God's creations, we are never done, but being made new every day.
Think about it this way: My Pilates teacher completed her certification this month. She thought she would feel different once she was done. Instead, she realized that the certification wasn't a completion but an acknowledgment of what she had already become: a teacher. She was not, after all, done; instead, she was just beginning to live fully in her new vocation.
Graduation is not just the completion of one's formal public education. Graduation is an invitation to explore one's adult calling and baptismal vocation in the world.
Weddings aren't the main thing. Weddings are the public commitment of body, mind and heart to life in a new marriage being created by God.
Baptism is not the accomplishment of a sacred ritual. Baptism is the beginning of a new life in Christ.
Confirmation is not the completion of one's faith formation. Confirmation is picking up the baton from one's parents and faith mentors for the next leg in lifelong discipleship.
In God's eternal love, even in death we aren't done. Death marks the holy transition from life in one kingdom to life in the next.
It is a startling change in our thinking to imagine that instead of being done, with each milestone we are simply becoming more fully who God created us to be. That our milestones are not completions but celebrations of who we already are in the sight of God. And that there is more in store for each of us, no matter how old we are, no matter where we are in life's blessed journey.
Maybe the pressure can come off these events if instead of considering them to be a culmination, we can simply celebrate the gift of life at the center. Giving thanks to God for every step—large or small—of our journey through this part of the kingdom in the company of fellow travelers.
So, by all means, order a cake and celebrate that for the whole of our lives, God continues to call us forward and new life comes with the dawn.
Pastor Chris