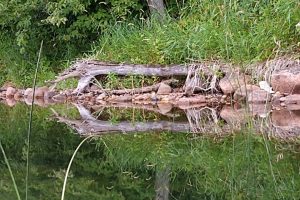 The photo is from the quiet lake where Ted and I enjoy an annual two weeks of sabbath "up north" with family and friends. This is called "Chapel Door" and is from the east side of the lake, a deeply holy place for me. It is a thin place, where God feels profoundly present.
The chapel door reminds me of all the ways God's church is present in the world.
While we were up north, the ELCA was meeting in Milwaukee in assembly as a churchwide body. We meet this way every three years. Voting members, clergy and lay, from all 65 synods: 50 states, DC and Puerto Rico. We meet to remind ourselves that we are the body of Christ with 10,000 congregations, siblings in Christ, church for the sake of the world.
Among the many things accomplished during this assembly:
We re-elected our Presiding Bishop Elizabeth Eaton to a second term. She is the first presiding bishop of the ELCA to win re-election on the first ballot.
A Declaration to People of African Descent was presented to the representatives of the African Descent Lutheran Association. Bishop Eaton says the document is a commitment to "work toward a deeper understanding of slavery and its legacy, of institutional and structural racism, of white privilege, and of attitudes and foundations of white supremacy." Rev. Lamont Wells, president of the African Descent Lutheran Association, said, "We must abandon our lust for oppressive power, wealth and even our own comfort for the sake of fulfilling God's commandment to love others… Therefore, we…can receive this apology as a divine mark of repentance that serves as a catalyst for change." Trinity Lutheran Church will look forward to marking, with our sibling congregations, the newly established annual Day of Repentance.
The ELCA became the first North American denomination to declare itself a sanctuary church body. As a sanctuary church, the ELCA Is committed to serving and supporting migrant children and families in communities across the country. We are still discovering how that impacts us at a local level but are eager to learn. (And may already have more information not available when this issue of Trinity Today went to press.)
In addition to multiple other actions—such as the Declaration of Interreligious Commitment and the introduction of the social statement "Faith, Sexism and Justice"—there was a celebration of the 50th anniversary of the ordination of women and the 40th anniversary of the first ordination of a woman of color. More information and pictures can be found at www.elca.org, on Facebook (Evangelical Lutheran Church in America), by asking one of the pastors or by contacting the Saint Paul Area Synod.
It is an exciting, challenging, engaging, transformative time to be church. No change or move to the future comes without conversation, disagreement or prayer. This time is no different. But the overarching message coming out of Milwaukee is that it is time. Time to love. Time to love in action. Time to love all those whom God has created, called and set loose on earth to be agents of God's love.
As we kick of our fall "program year" with celebrations and firsts and welcomes home, we are reminded that because God first loved us, we live as Jesus in the world, loving God and loving neighbor. This is not easy work, but it is holy work. And we do it together.
In Christ,
Pastor Chris